2021thu12aug3:00 pm4:30 pmVirtual EventOutreach webinar for CHUNAUTI 2.0 for STPI Bhopal3:00 pm - 4:30 pm Event Organized By: Software Technology Parks of India
Event Details
About this Event
NGIS: Next Generation Incubation Scheme (NGIS) is STPI's comprehensive incubation scheme which has a vision to drive the rise of India as a Software Product Nation so as to make India a global player in development, production and supply of Innovative, Efficient and Secure Software Products thus facilitating the growth across the entire spectrum of ICT sector as envisioned in the National Policy on Software Products (NPSP) – 2019. STPI through CHUNAUTI 2.0 is looking to identify and support promising startups with a special focus on women-led start-ups working on innovative technology products & solutions in focus sectors like Education, Healthcare & Wellness, Financed, SaaS, E-commerce, Agriculture and Environment, and give them access to networks, connects, learning and resources that are needed to build scalable, profitable and global businesses.
Speakers & Host

Shri Devesh Tyagi
Senior Director, STPI
Shri Devesh Tyagi is Senior Director, Software Technology Parks of India (STPI). He has more than 26 years of experience in IT/ESDM sector. He has been actively involved in the promotion of IT/ESDM sector and also working for the promotion of entrepreneurship, innovation and product creation in the country. He has also been involved in various policy formations for IT/ESDM sector. Prior to joining STPI, he served National Informatics Centre (NIC) in various capacities. He has a wide range of experience in Project Management and Software development. He possesses strong technical capabilities and delivered lot of remarkable projects during this period. Shri Tyagi has earned his B.Tech in Computer Science and Engineering from Marathawada University and Masters Degree from BITS, Pilani.
---

Dr. Rajneesh Agrawal
Director, STPI Noida
Shri Rajneesh Agrawal is Director, Software Technology Parks of India (STPI), Noida whose jurisdiction comprises of 10 States of Northern India. He is contributing immensely in repositioning of STPI with focus on innovation and dispersal of IT/ESDM industry in the northern part of India. Along with the statutory responsibilities with regard to STP and EHTP schemes, he is profoundly contributing for growth of High Speed Data Communication services, incubation services and setting up of Centre of Excellences (CoE) for new & emerging technologies like Block-Chain, MedTech, FinTech, ESDM, AI, Data Analytics, etc.
---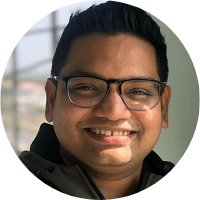 Shri Nemesh Singh
Founder & CEO, Appointy Inc
Shri Nemesh Singh, after not being able to find a job post completing his graduation, founded Appointy and today it has grown to become a force to reckon with. Being used by more than 19,000 businesses in over 78 countries, Appointy helps SMBs to get new clients and keep their appointment books full.
His vision is to create a platform for small and medium sized businesses that would help them grow without much effort. His belief is that one should always focus on the value of the product offering rather than money.
---

Ms. Mamta Bakliwal
Co-Founder, Empower Integrated Solutions Pvt Ltd
Ms. Mamta Bakliwal is one of the first few Women Technology entrepreneurs in Central India. She is Founder, Chief Technology Officer (CTO) , Director of Empower Integrated Solutions (P) Ltd a Software Export House with offices in Indore and Pune and Strategic Partners in US, Canada , Germany, UK and Belgium. She is a B.E (EC& T) , MBA , Executive Program from MIT on Artificial Intelligence: Implications for Business Strategy. She was among the top 6 Finalist for the WomenTech Global Awards 2020 in the category CTO of the Year 2020 amongst women in Tech across 181 countries. She has been featured among the FLO Compendium of 100 Successful Women Entrepreneurs in MSME across India She has been awarded Women leader in Software Exports at SWEEP(Sustainable Growth for• Women Entrepreneurs through Export Production) 2017 by MAWE , Facebook and FLO Winner of Women Business Leader – IT award by Indo Global SME chamber and has been Felicitated at various Platforms like FICCI FLO, iDiva, eChai, etc as a leading Woman Entrepreneur.
---

Ms. Palak Saboo
Co-Founder & CEO – Kaizen Academy
As the Founder at Kaizen Academy, Ms. Palak Saboo conducts skill building workshops for different segments and age groups. For the kids segment, Palak conducts new age workshops that focus on 21st Century learning skills which are: Communication, Creativity, Critical Thinking and Collaboration.
She has done MBA from ESADE Business School (Forbes top 20 worldwide). Learning and development initiatives in Europe, South Africa and India. She conducts various workshops for kids aged between 6-12 years from schools top schools in Delhi studying both in CBSE and IB boards. Conducted employability trainings for over 5000 students across India, majorly working with students of Delhi University. She has recently worked with ministry of labor and employment to conduct a workshop in Jhansi for over 200 students at SR Group of Institutions. She has worked at Google and has conducted trainings on enhancing business communication skills for the sales teams of Google's top publishers such as Times of India, Hindustan Times, NDTV, India today and more. She at Inc42 had launched an acceleration and mentorship program that trained youth on various aspects of employability and entrepreneurship. She has launched YEP (Youth Entrepreneurship Program) across 300 colleges in India providing students with monetizable micro sites giving them industry exposure at an early age. She trains thousands of students between 4-17 years from 30 countries.
---

Ms. Arti Agrawal
Co-Founder, Anaxee Digital Runners
Ms. Arti Agrawal holds an Engineering Degree in Electronics and Telecommunication from SGSITS, Indore in 2004. She did MBA from NITIE Mumbai in 2006. Joined Proctor and Gamble (P&G) from campus.
In May 2007, Arti left P&G to fulfill her entrepreneurial dream and joined Anaxee (a Biometrics Start-up). She holds a patent in "Vein Recognition System", a Biometrics System developed indigenously by Anaxee Technologies (One of the four companies worldwide and only company in India to develop this technology). Under her leadership Anaxee Technologies has become an authority in implementation of Biometric Systems countrywide.She is currently Director at Anaxee Digital Runners Pvt Ltd. A startup working towards economic development of rural India. Digital Runners is a platform that helps businesses reach remotest parts of the country along with creating employment opportunities for rural youth.
She was selected by Department of Science and Technology to showcase technology start-ups, founded by Indian women entrepreneurs in Silicon Valley USA. She was also the winner of TiECon 2017 held in Santa Clara USA. She intends to share her knowledge and experience to encourage more women to take the path of entrepreneurship.
---

Shri S. H. Abbas Mehdi
Joint Director & OIC, STPI MP
---
Time

(Thursday) 3:00 pm - 4:30 pm
Virtual Event Details
RUN
Event has already taken place!
Organizer